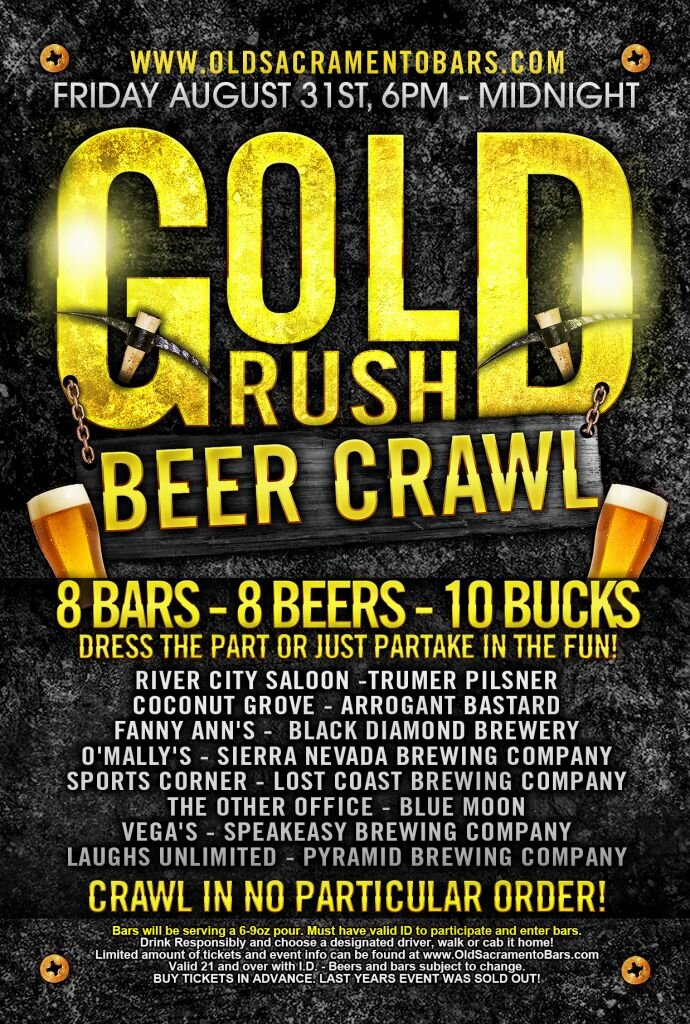 Gold Rush Days in Old Sacramento's start Friday August 31st but the party starts Friday NIGHT. The Gold Rush Days Beer Crawl is in it's 2nd year and is a great after work get together or way to get friends together and visit all the great restaurants and bars Old Sacramento has to offer. Dress up the part, Gold Miners, saloon girls, gunfighters, or just plain night out clothing is fine. But be ready for some fun with all that Old Sacramento has to offer.
This is all part of the big Gold Rush Days celebration that is going on Labor Day Weekend in Old Sacramento. This is Old Sacramento's 13th Gold Rush Days weekend. More than 200 tons of dirt will pave the streets of Old Sacramento as this annual festival "turns back the clock," transforming Sacramento's historic district into a scene straight out of the 1850s.
For $10.00 you will visit 8 of these great establishments in no particular order and get a 6-9 oz craft beer at each all for the low price of just $10.00. It starts at 6pm and goes till midnight but don't worry because when it's over there are plenty going on till closing time. Details, venues, beers are subject to change and you should signup for updates below.
You should also know that last years Gold Rush Days Beer Crawl event SOLD OUT. 1200 Tickets Gone By 7pm. We strongly suggest you purchase tickets in advance via eventbrite or at one of the venues.
Gold Rush Days Features Dancers, Street Dramas, Wagon Rides, Gold Panning, Period Artifacts, Storytelling, Craft Making, Embarcadero Tent City, Period Musicians, Horse-Drawn Carriages & much more!
It is a all weekend event, and we strongly suggest you check into a local hotel and make a weekend of it. Old Sacramento has 3 very close by.
Sign Up Below For Updates

Gold Rush Days Beer Crawl is an event ran by the bars of Old Sacramento and is not affiliated with Gold Rush Days.