OLD SACRAMENTO CELEBRATES MARDI GRAS ON FEB. 18 WITH LIVE MUSIC AT DIVERSE BARS AND RESTAURANTS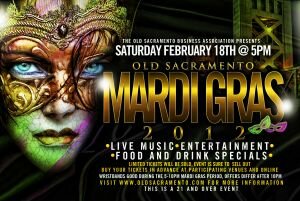 Sacramento, CA. February 6th, 2012:  Classic rock 'n' roll, jazz and Cajun music will fill Old Sacramento's bars, restaurants, and clubs on Saturday, February 18, beginning at 5 p.m. in celebration of Mardi Gras. The event, presented by the Old Sacramento Business Association, offers revelers an opportunity to get VIP access to the diversity of evening entertainment establishments in the region's historic business district.  Advance tickets are only $10 ($15 on the night of the event) and are available at River City Saloon, Laughs Unlimited,  O'Mally's Pub, as well as online at www.oldsacramento.com.
The 2012 Old Sacramento Mardi Gras is being sponsored by the Eagle 96.9 FM, Holiday Inn Capitol Plaza, and Zatarain's.
To date, 10 bars or restaurants within a two block walk of each other have signed on to participate in the event including the River City Old West Saloon, Café New Orleans Hot & Spicy, Coconut Grove Sports Bar & Grill, The Delta King, Fanny Ann's Saloon, Fat City Bar and Café, La Terraza Mexican Restaurant, Laughs Unlimited, O'Mally's Pub, and The Other Office.
Music will range from classic rock 'n' roll to jazz to Cajun, including Catfish and the Crawdaddies, with special guest Bob Keller on fiddle.  For a complete list of bands, venues, and specials visit www.oldsacramento.com
Visitors can stay safe and stay overnight by booking a Mardi Gras room package at Holiday Inn Capitol Plaza.
Each venue will have live music and VIP specials for ticket holders until 10 p.m. when each venue will continue with its regular Saturday entertainment and specials.
For more information or advance ticket sales, please visit www.oldsacramento.com
###